For their Druine Turbulent aircraft Rollason Aircraft & Engines Ltd. situated at Redhill aerodrome (Surrey), modified and adapted Volkswagen car engines. This was in the late 1950's.
-Initially it was based on the French Ardem 4CO2 that already was a VW conversion.
-First they modified the 30 HP Ardem 4CO2-2, changing carburetors and adding heating, varying compressions or in the case of the RTW Mod, eliminating the chain that drove the magneto and connecting it directly.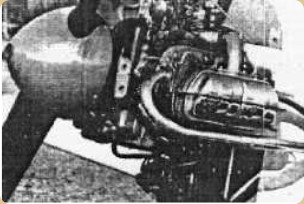 "Rollason engine on a Turbulent"
-Of this 30 HP, 1200 cc engine another modification was made, enlarging cylinders and going to 1300 cc giving 40 HP, FH modification, shown in the picture.
-But there were two basic displacements in the normal Rollason offers, the 1,500 cc and the 1,600 cc.
-The 1,500 cc were offered as the 45 HP, low compression (7.8:1), Mk4 models.
-The Mk5 version that gave 55 HP at 3,300 rpm was a high compression (8.5: 1) engine.
-The Mk X gave 45 HP with 1,500 cc, and it was officially approved by the CAA.
-Finally the Mk XI, with 1,600 cc giving 55 HP at 3,300 rpm.
From Appendix 12: English manufacturer of Ardem engines, based on automotive Volkswagens, based on the 1,200, 1,300, 1,500, and 1,600 cc.
-Taken from an ad in an English magazine, we show a photo of the Ardem Mk-X.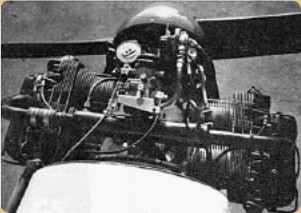 "Ardem Mk-X on a Turbulent"
Motores de ROLLASON
Model: Ardem 1200
---
Arquitecture:
Cooling:
Total Displacement:
Bore / Stroke: x
Power:
Weight:
Other details:
Model: Ardem 1300
---
Arquitecture:
Cooling:
Total Displacement:
Bore / Stroke: x
Power:
Weight:
Other details:
Model: Ardem 1500
---
Arquitecture:
Cooling:
Total Displacement:
Bore / Stroke: x
Power:
Weight:
Other details:
Model: Ardem 4C02
---
Arquitecture:
Cooling:
Total Displacement:
Bore / Stroke: x
Power:
Weight:
Other details:
Model: Mk V, X y XI
---
Arquitecture:
Cooling:
Total Displacement:
Bore / Stroke: x
Power:
Weight:
Other details: