Last update: June 8th 2022 at 17:55
Author's history
In January 1961, I entered the School of Specialists to learn aviation mechanics. The training consisted of two stages, Basic and Fundamental. Inĺ the former they taught theory with manual workshops. In the latter I did practices. Towards the end, during the last three months we made training flights.
At that time I made my maiden flight in a "Tia Ju," which is a Spanish nick name (Aunt Ju) for the endearing three-engined Junkers Ju-52. The flight practice was that a section of the pupils from my class went to the cabin one at the time. Previously the pilots had maladjusted some parameter such as engine-oil temperature. First one had to recognize the problem and then correct it.
I remember that during the first flights I was more occupied with helping airsick companions, than with the technical details of what was to be done in the cabin.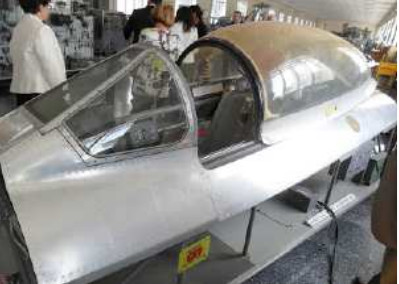 As I commented on another occasion in this Work, teaching was incredibly sensational. As a complementary to the USAF program they added the Malaga Mechanics school program. The only things missing were the Bobadilla texts and sheets. (Bobadilla was a mechanics commander in the army. He was military, but really stuck into the subject. I think he even was an aeronautic engineer.)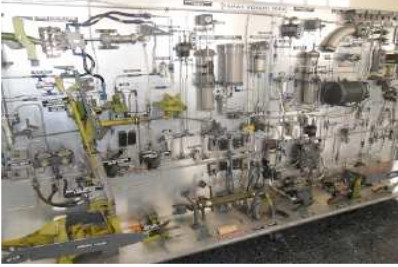 In the early 1960's, they used audiovisual systems as filmstrips, slides, films, and link trainings that were exact copies of the aircraft facilities.
Unlike today, they stressed us the amount of money that we were costing the state every hour at school (even sleeping hours), which was 25 pesetas ($0.16) in those days. You were not there to waste time. A bad number "4" note on the blackboard represented weapon instruction in your free time and to take a blanket to go to sleep in a special room at the base entrance during the night. With a "0" note you went to jail. And this could only be repeated one single time, or you were sent to the ordinary troops for the rest of your assigned time in the military service.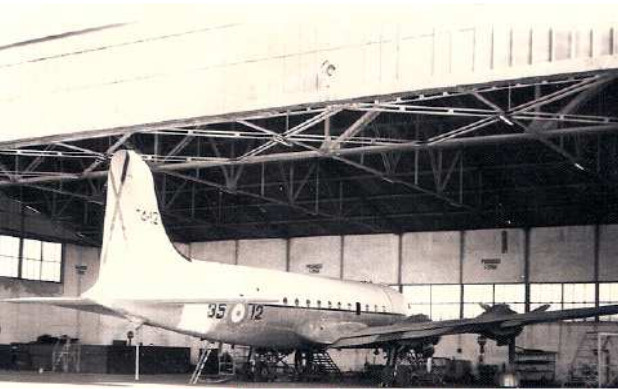 When I finished my training at the Specialist School, I could choose to be destinated to Air Force Transport Wing 35 with its four-engine Douglas DC-4 / C-54 transport aircraft.
This wing had 3 squadrons in the 1960's: one with various DC-3s and Azor aircraft (CASA 207) and two squadrons with four-engined Douglas aircraft. I ended up at the 3rd Squadron.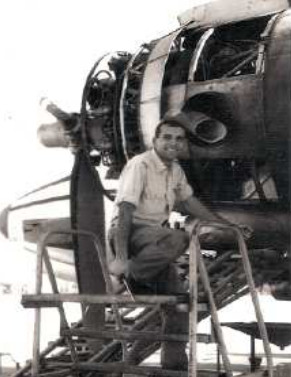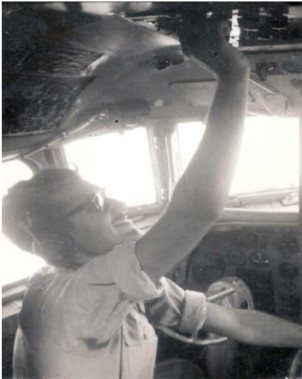 Photographed during an outdoor review (1st Level) "End of Stage" type. The 2nd Level was the hangar and the 3rd one was the Base Workshop.
Also checking again after the jobs were finished. During my traineeship as a Specialist Assistant I was under the orders of a senior mechanic and usually both of us were assigned to the same aircraft.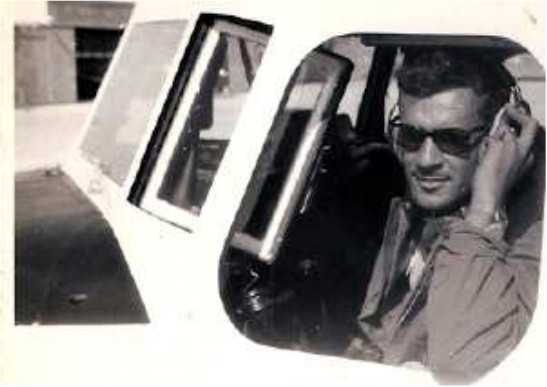 Photo for my fiancée. Periodically there was an award, a long one-week journey to the Canary Islands to bring supplies, like vegetables and fresh foods, movies of the week, etc, to African detachments.
I visited Ifni, El Aaiun, Smara and Villa Cisneros in the middle of the desert during these "Courier Service" flights.
These were two years of gaining practical experience, "On Job Training". Some magnificent manuals finished the task of giving me a solid and professional foundation.
At the end of my contract with the Spanish Air Force, having carried out my services in two main stages: 1st my training at Leon Air Base, after that job training, the 2nd stage, at Wing 35 at the Getafe Air Base, and thereafter would arrive a 3rd stage in civilian life.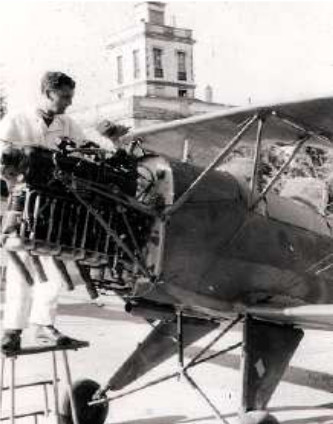 "RMV actuado en la Bücker 1131"
This stage would take place at Sabadell Airport. First at the Barcelona-Sabadell Aero Club that had a large fleet of planes for almost all disciplines, from pilot school to trainings, acrobatics, parachuting, and an endless number of private aircraft, etc.
I was lucky to contact the club's Secretary, Mr. Carlos Alos Sr., whose son would be aerobatic youth champion of Spain. (And later a pilot for Iberia and eventually a test pilot for the same company). The Barcelona-Sabadell Aero Club was technically supported by Seravia, Spain's number 1 Authorized Service center, an authorization by DGAC.
At the BSAC there was another mechanic, who was my superior and was called Albert. I got along well with him and we made a good team.
It was in a time of great aeronautical effusion, working without limits. Sometimes practical teaching classes were arranged at 6 or 7 in the morning with students and entrepreneurs who started their day at 8 or 9. So, before that time, we had to prepare the machines, refuel them, check them so that everything was in order. And I was there too.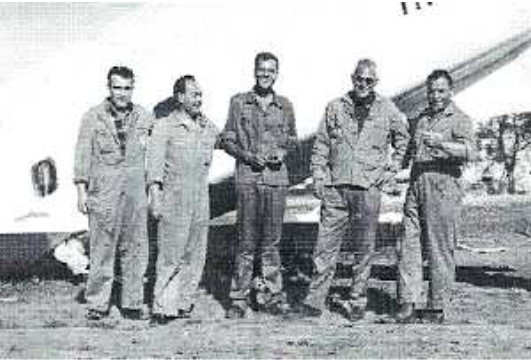 "RMV in the center, N.Parera on my LH"
Seravia manager Narciso Parera put an eye on me and he claimed me for their services, as new better equipped aircraft were to arrive at the workshop.
In the photo Narciso with glasses, and Ricardo M. Vidal in the center. The other coworkers worked for German Dornier and came to rescue the second Do-28D Skyservant prototype that landed in soft ground making a rollover, as the engines stopped for lack of gasoline. It was a very satisfying job, without damaging it even more than it suffered in the accident.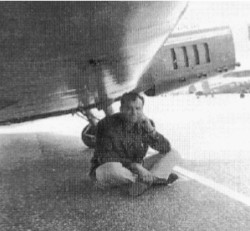 "RMV en Dax debajo de una de sus Zlin"
Being in Seravia I was assigned to maintain the same planes that shortly before had won the World Championship, with Castaños as head pilot. This time it was the Leon Biancotto Trophy that was to be held in Dax, in French Basque country.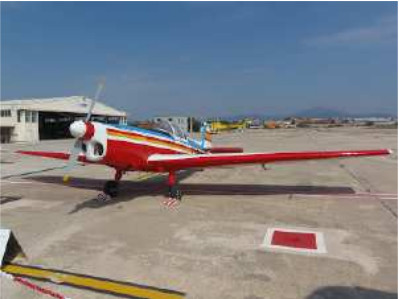 They were Czech Zlin aircraft, one two-seater "Trener Master" and two "Akrobat" single-seaters. I was the only mechanic assigned to the Spanish team, so this was my first big solo mission. It went well.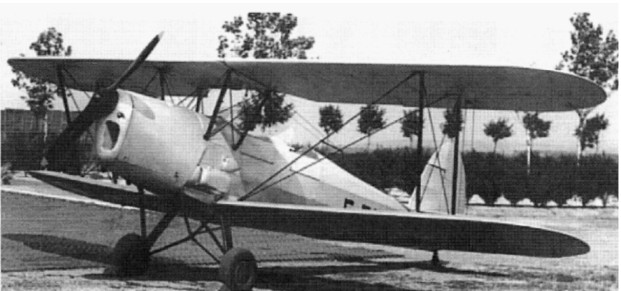 In these times, I was assigned to maintain a Stampe SV4C with an air started Renault engine. It was a BSAC aircraft that was used by the Spanish youth champion, Carlos Jr. Alós, who later had a brilliant career, even as a test pilot in Iberia.
I consider my Stage 4 the one that begins in 1970. I am claimed to create the first technical service for the Spanish Cessna Dealer and to obtain a workshop license to give "Full Line Service" in Fenwick Aviation. (In France, the group already had seven service centers).
A new hangar was built in Sabadell, and was equipped with means. And after an AAA level Cessna parts stock was obtained, we began to sell aircraft and maintenaince them.
Once again I found myself in front of a huge responsibility. The material was extraordinary and the Cessna organization gave me courses to develop my mission (more than 30 courses in this period) as well as "stages" in Paris (Toussus-le-Noble) and Brussels (Melsbroek).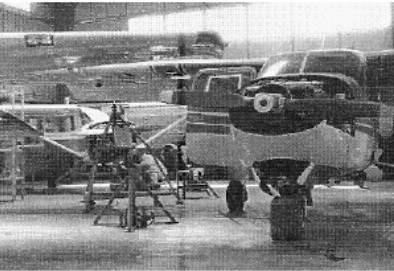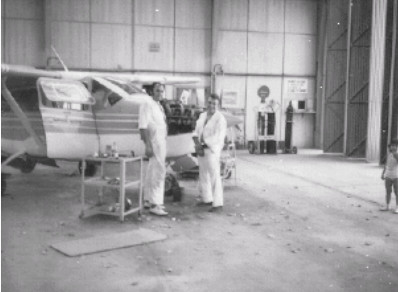 I rescued my friend and teacher Alberto Piera for this journey. We had to make multiple trips as we were Cessna Dealer for Spain taking care of the the entire fleet including foreign passers-by.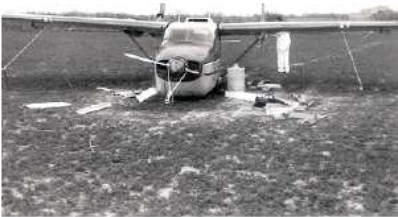 Such a thing happened in Ampuries (Girona), a rescue of a T-337 "Milirole" military from an African country, which (again) ran out of gas. I had to good dismantle it very well and fit it on the platform of a truck trailer in proper beds.
There were thousands of services and acquisition of a lot of practice. We can see the use of the "white overall" as the Aviation Mechanic uniform. The oil crisis of 1973 (Yom Kippur War) made the Fenwick project languish here. In France it continued as France Aviation.
In 1975, a Cessna 310Q lands at Sabadell Airport and taxis to my hangar. It parks on my platform and from this aircraft are descending the senior staff of the new Cessna Service Dealer "Aviation Cares". Coming straight to the point, they double my salary if I go to Madrid. They also offer to pay expenses for traveling, home, and school for my children, etc.
At Cuatro Vientos Airfield they offered me a Hangar that was used by RACE as a warehouse, full of junk and waste materials. It is put in condition and we obtain the license for Authorized Service Center by the DGAC. Today it is a "sandwich" hangar between the FIO. (Aerotaller and AM).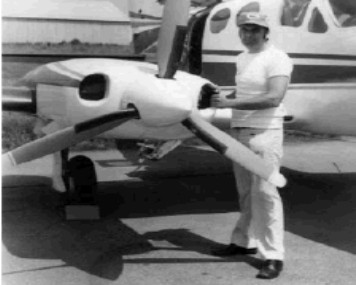 More courses, stage trips, etc. and there begins a vertigo period in Cessna aircraft sales, 157 aircraft were sold in two years (see Spanish enrollment record). While working in this service I get another offer for a new service that, again, doubles my salary. This time I go to Barajas.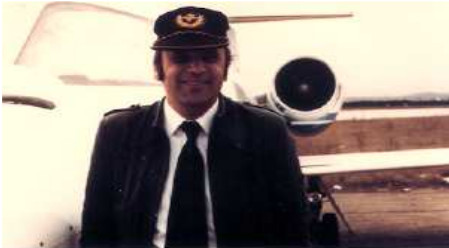 At this point, sometimes I think it was the highlight of my career. My work was to maintain a Lear Jet 35A in top condition. It turned out to be a Gestair embryo and with me as the first aviation mechanic for the new company (1979).
With the corresponding course in Wichita, Kansas, at the aircraft factory, and at Flight Safety: as it should be. Ah! and with an exam result of 100%. We cannot ignore any corner of an aircraft.
Curiosity: A Learjet ad showed "We sold Speed" and it is true, we climbed above all existing civil aicraft (45,000 feet) and at higher speeds.
This Learjet 35A Garret had two AiResearch TFE 731 engines and their performances were terrific. To have a reference, the CASA 101 military training aircraft, has a single engine of this brand and model.
So ascending and getting out of the clouds was like a jump. Once, I saw a maximum speed of 600 Knots (relative to earth) on the DME, ie near Mach 1, It is true that we had tailwind from the Atlantic, and the trip from Madrid to Barcelona took us 28 minutes.
This plane was used by bankers, aristocrats, politicians, (President Suarez used it in a campaign), multinationals, etc. A luxury of clients and a luxury for me as this wonderful machine's aviation mechanic, maintaining it without limits.
Back in Barcelona, my natural territory, I went through an extra-professional experience. Some adventurers, who infiltrated the new Aerosa aircraft maintenance company, used this service station for other purposes. We, who were dedicated to maintenance, had to suffer looting and an unpleasant end of service.
As a way out of this bad experience I decide to become self-employed, and I offer my services to a Cartographic Service company, maintaining at first two, and later three aircraft. There are new courses and again traveling to Wichita, Kansas, for Flight Safety. This time I went to Cessna.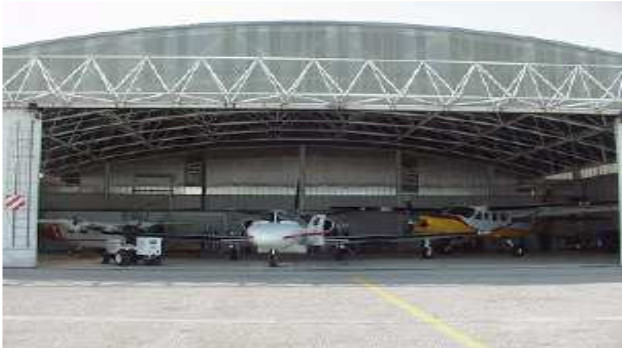 In this new era, I will remain 20 years until my retirement.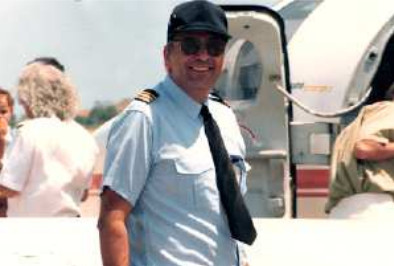 At that time, by 1986 I took the maintenance of ICC. I began by attending setting up`the hangar and processing the selection of suitable aircraft for planned missions.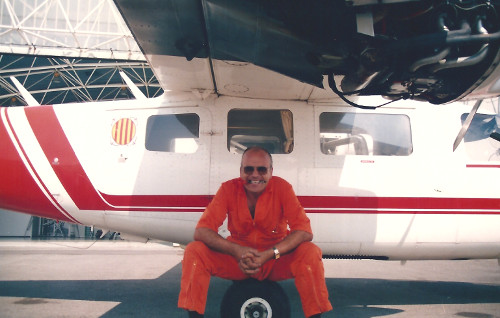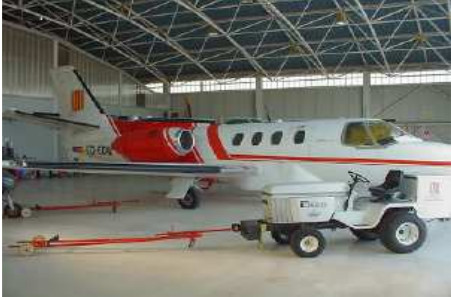 The star-plane was a Cessna Citation I-SP (Special Performance) sometimes referred to as "Single Pilot" for its convenience. In fact it was prepared for this function. The aircraft was modified to climb to 45,000 feet in those days. And it had a very stable platform for photogrammetric work.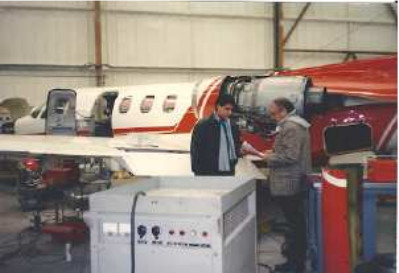 "El Cessna en París, acompañándolo en una Fase 5"
At that time I had the opportunity to keep a daily maintenance for the three types of existing engines: The Lycoming P-68C piston, the Caravan's PT-6 turboprop, and the Citation's P&W C JT-15D turbofan. That is, with constant change of mind according to the aircraft I attended. "Heavy" maintenance was taken care of in Geneva or Paris.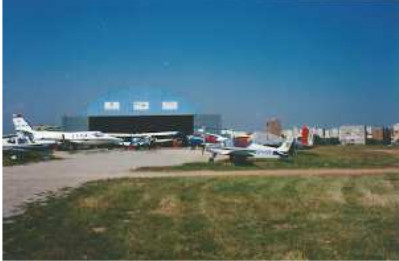 It is at the same time (1986) that I eventually founded my own aeronautical workshop for aircraft maintenance: First as CMA-119 (Authorized Maintenance Center 119 ) and later in 1994 complying with European regulations JAR-145 with number E-032 for Spain.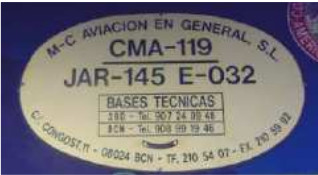 MC Aviation General SL maintains 143 registered aircraft, some school aircraft repeat several times a month. All this is done with only 17 employees.
During my career I had to start up 6 Maintenance Centers for my employers, apply for DGAC authorizations and set them up. Eventually in 1986 I launched the 7th one, which was my own Maintenance Center. It was located at the north plot of Sabadell Airport.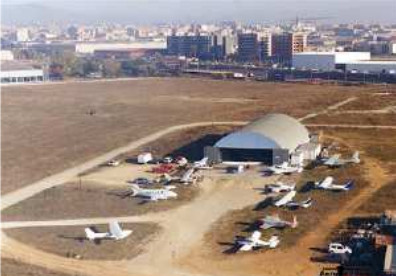 "Hangar Blau" (foto Aerotendencias)
It was known by the charismatic name "Hangar Blau" (Blue Hangar) for the color of its facade. First the national CMA-119 license was achieved, until in 1994 it obtained the recognized European Center "JAR-145 E-032" license. Fulfilling all the demands of the moment.
The start of this company went somewhat casual. Being employed in El Prat (ICC and Gestair), I was asked to do maintenance for a couple of customers, who I knew for some time. Bit by bit more owners and companies joined. I had to associate to build the hangar with Manolo Sanchez Damians (Sumaer SA), and the snowball started rolling. Overall, the hangar up to the neck with a waiting list outside. And from "Single engines" to "Jets". The activity record for servicing airplanes from major brands grew together with the staff: 17 employees for 143 registered aircraft, peaking in 2000.
The circumstances, which were prior to my retirement and especially when AENA applies the 5th Airport Director Plan that did not allow me to move the hangar to a new plot (same as other airport operators) for various reasons.
They did not like the shape of the hangar, they had to have a uniformity to the bureaucrats' liking, not giving any option. The result is that they chose fragile hangars (the industrial type that do not withstand 20 tons of snow on their roofs) or the wind gust damages suffered in February 2009. These new hangars had low doors (no twin-engine aircraft of excellence could enter without having to maneuver lowering the tail).
On the other hand, the only type of hangar that was internationally approved, was precisely "Hangar Blau" that now has disappeared from the scene.
Combining my "Aviation Mechanic" profession that was always supported by continuous training (OJT), I did not spare any effort on helping my partners and employees by providing courses and all kinds of information. I think that I have a good friendship with all of them.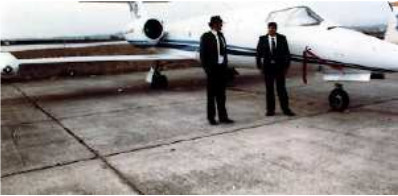 This restlessness would lead me to create the well-known aeronautical bookshop in Barcelona: "L'Aeroteca" to make all literature, technical and official documents, including educational activities, available to all aeronautical professionals, amateurs, and students to implement their training.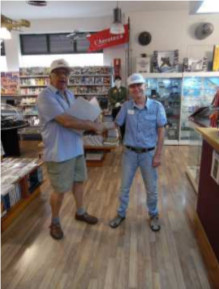 Now that I am retired, I receive customers and old friends.
The library has a lot of other activities that are totally related to aviation. It has aircraft simulators such as a Full-Motion OVO-04, set up for the Mooney Bravo.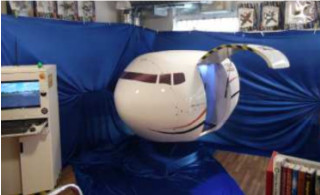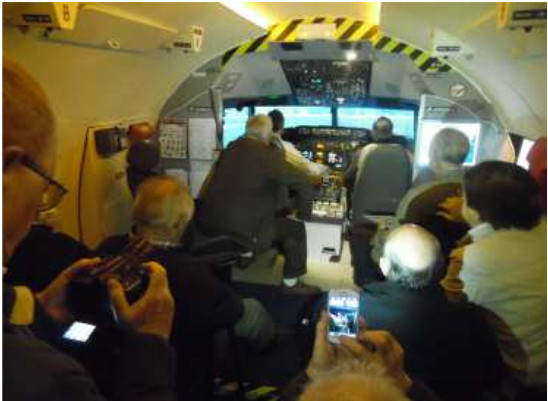 Or the large phenomenal Boeing 737 NGV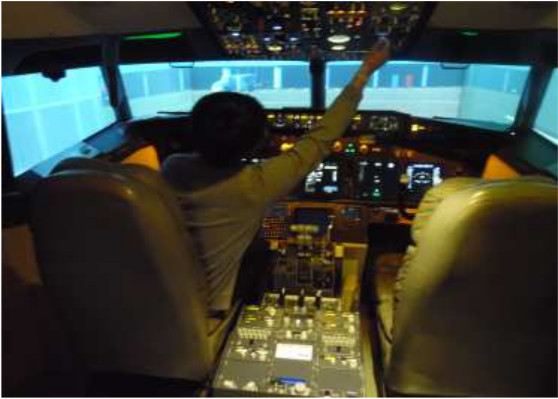 The Boeing 737 NGV simulator allows us to perform all operations identically to the real aircraft. To visit all major airports in the world. To navigate all airways, communicating with control towers and area control, etc.
And most importantly, you are not forced to assist any course. Accompanied by an instructor, anyone with some curiosity can sit in the pilot's seat and live the same experience as these professionals.
And at very affordable prices, due to the fact that we avoid charges for approvals and compliance with standards that we no longer want to accept.
But we have to remember that they are "virtual" activities, through IVAO (International Virtual Aviation Organization), not to be confused with ICAO (International Civil Aviation Organization). These virtual activities are rounded off with an ATC simulator, Control Tower and Area Control.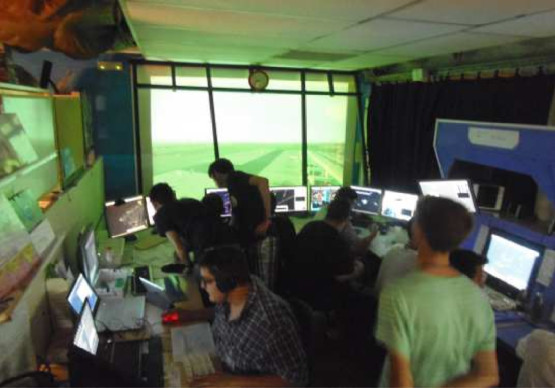 The ATC is led by a precious youth being able to attend virtual pilots worldwide -and they do-. They also manage the movements of our Boeing 737 NGV.
"L'Aeroteca", founded in 1986, is a world leader as a center of documentation and aeronautical literature. It has an excellent relationship with customers, suppliers and publishers.
At least half a year in advance we know the titles of new books that will come out.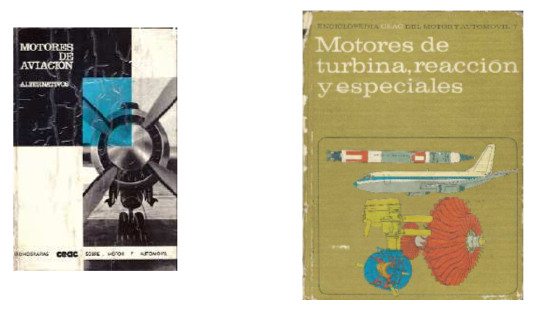 "RMV is the author of two books that appeared in the years 1966 and 1967, and he wrote many subsequent technical articles in several aviation magazines"
And Finally,
his Monumental work
"Los Motores Aeroespaciales, A-Z
(Aerospace Engines A-Z)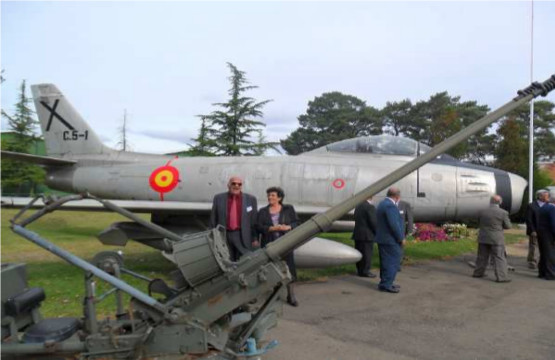 At the 50th aniversary of my entry in the Leon Specialist School, they organized some commemoration events, and were able to bring together a large part of the "35th" class, which was mine. In the photo above you see me with my wife in front of the C5-1, which was the first Sabre to arrive at the school's aircraft hangar, in 1961, and that I could "study".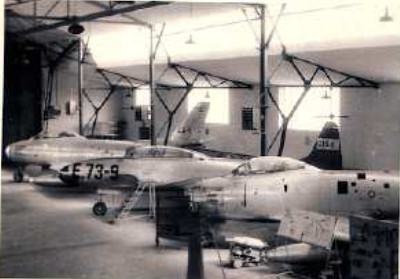 Awards to RMV
The author of this work has been recognized with awards for his path through active aviation (see his blog's article "RRII vs RRAA") and some significant Awards that he keeps with enormous affection.
On 14 October 2003, President of the Generalitat de Catalunya, Mr. Jordi Pujol awarded Ricardo Miguel Vidal the 2003 FLYER prize during an event that commemorated the Wright brothers' first flight's centenary with their first controlled flight of a "heavier than air" in Kitty Hawk in 1903.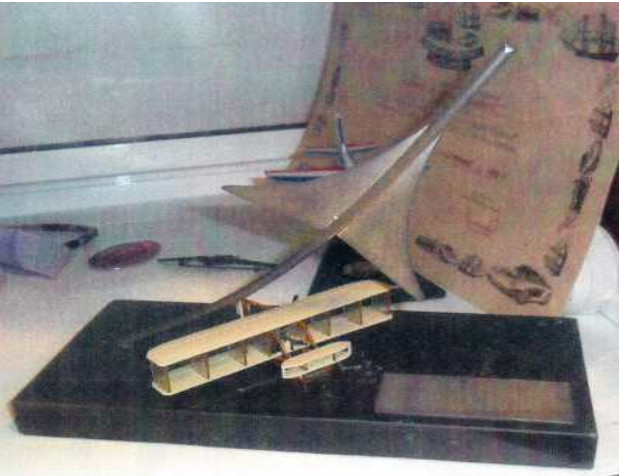 It was during the so-called "Nit de L'Aviació" (Aviation Night) sponsored by the Spanish College of Aeronautical Engineers. It was held in one of the Royal Shipyards Halls in Barcelona and was attended by some 500 representatives of the Aviation Industry, Institutions, Companies, Professionals from Spanish principal organizations such as AENA, ETSIA, INTA, Iberia, Taf, flying clubs, and some European institutions such as EADS and Eurocontrol.
He was awarded unanimously (according to an authorized source). And it was decided to award Ricardo Miguel Vidal the prize for "The Best Professional Aeronautical Career". It was presented by President of the Generalitat Jordi Pujol.
----- -----
Chronologically, in 2007, in the Official Congressional Record of Defense BOD No. 4, page 271, it is mentioned that the Cross of Aeronautical Merit with White Distinction is granted to Ricardo Miguel Vidal.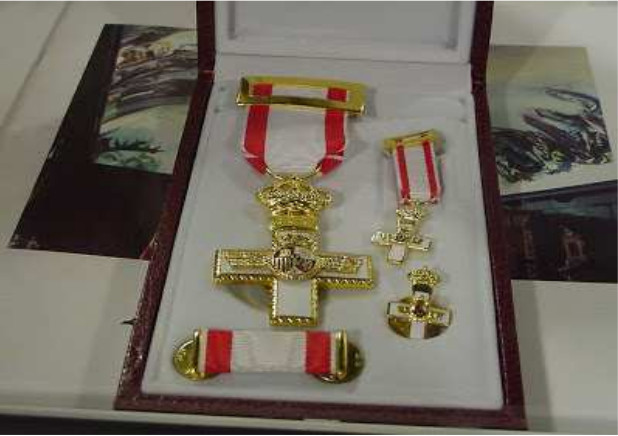 During the ceremony the reasons were mentioned:
1st: for spreading of aeronautical culture through the Aeronautical Bookshop, Libreria L'Aeroteca in Barcelona, with the invaluable help of his wife Lola and sons Marc, Jordi and Marcel.
2nd: for his entire career from its beginnings in the Air Force until his career in Civil Aviation that was focused on Aircraft Maintenance.
3rd: for his work that is mentioned a "Monumental" publication, "Aviation Engine, from A to Z". Today, the tenth edition is called "Aerospace Engines, from A to Z".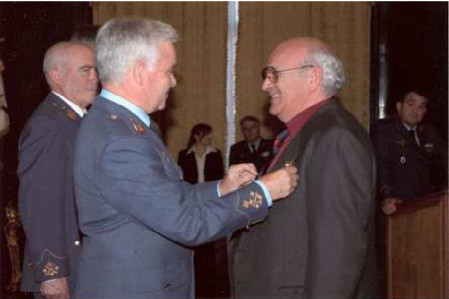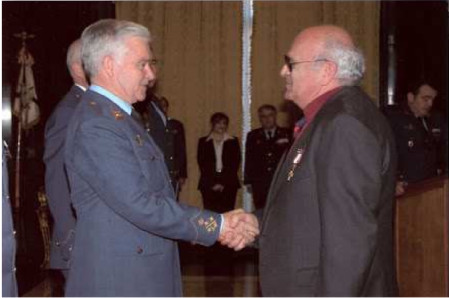 The 9th of February of the same year 2007, the ceremony of this distinction took place in the Hall of Honor at the Air Force Headquarters in Madrid. The presentation was carried out by Air Force Lt. General Chief of Staff, Hon. D. Francisco Garcia de la Vega, and in the presence of other authorities, other award-winners and family.
Resuming:
-RMV is a "Legacy Member" of the "Aircraft Engine Historical Society" (AEHS) in Alabama. And Ex-member of AMFI. USA.
-Supporting member of the PAC, "Parc Aeronautic de Catalunya". Ex Assoc. Friends of Aeronautics. Barcelona.
-Member of the AAMA, "Association of Friends of the Air Museum". Cuatro Vientos, Madrid.
-Benevolent Friend Member «Membre d'Honeur-Bienfaiteur» of AAMS "The Friends of the Safran Museum" (Antes Snecma). Villaroche, Paris, France.
-"Flyer 2003" Award for the "Best Professional Aeronautical Career." (Spain).
-Cross of Aeronautical Merit with White Distinction, to the entire career, and spreading of aeronautical culture, in 2007 (BOD no4, p.271).
-DAR Member, Association of Republic Aviators. Catalan-North-Balear area. Barcelona.
-AHA member, Historical Automotive Studies Association. (Former Hispano-Suiza / Pegasus Employees). Barcelona.
-EAE Association member "Elizalde's Apprentice School" (at that time ENMASA-ITP), Barcelona,