Last update: October 12th 2016 at 16:11
Ricardo Miguel Vidal
Ricardo Miguel Vidal was born in Barcelona in 1941 where he received administrative and technical training until he entered the Air Force in 1960, which was the only place where he could start training aircraft mechanics at that time.
The knowledge he received was about material of that time: Sabre F-86, T-33, He-111 (C.A.S.A), Me-109(Hispano- Aviación), T-6, Ju-52, C-47, C-54, etc... and their engines.
He was designated to Transport Wing 35, with the T-4 (C-54) "Skymaster" planes. He traveled the world until 1965, when he passed to civil aviation, practicing at Maintenance Centers like Seravia -Number 1 Spanish Authorized Center-, at Fenwick Aviation and several Cessna Dealers (where he received more than 50 courses specializing himself in these aircraft, from the 150 model to the Citation). In all these places he occupied responsible maintenance positions.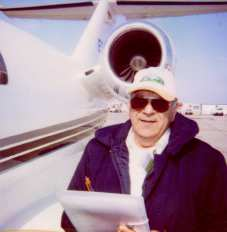 His great passion for engines made him, from the beginning of his profession, accumulating all the information and details that came within reach, filing and categorizing them. The result of this is the great summary titled "The Aviation Engine, from A to Z", which has now been changed to: "Aerospace Engines, A-Z ", and that you have in front of you.
Earlier, in the years 1966-1968, he wrote two books (in Spanish) titled "Motores de aviación alternativos " (Alternative Aviation Engines) and "Motores de turbina, reacción y especiales" (Turbine, Jet and Special Engines) as well as countless technical articles in specialized magazines.
Professionally he was demanded to initiate, organize and license seven DGAC Authorized Service centers, located in Sabadell, Barcelona, Cuatro Vientos and Barajas.
Eventually in the early 90s, he managed to have his own DGAC Authorized Maintenance Center with number 119, which in 1994 became to comply with European regulations, obtaining the JAR-145 E-032 certificate (today EASA) for his company called "MC Aviation General SL". His maintenance center served innumerable type of aircraft and customers: In 1999, 143 aircraft were maintained by 17 employees.
During the same time, in 1986, he opened the Aeronautic Bookshop Miguel-Creus, L'Aeroteca, which is currently run by relatives. Another aspect of this activity is the publishing house with the same name that is strictly focused on aviation issues, including sheets, books, models, etc., with the intention to cover literary shortcomings of this type.
Finally, the realization of a personal hobby of our character is the opening of a specialized Aeronautical Watch shop called Chez la Chaux specialized in watches for pilots, enthusiasts, students, etc., with a medium and high range of "La Chaux de Fonds et Le Locle" watches.
All this amalgam of activities revolving around aviation can only go well with certain people, which is the case with RMV, who accumulates so much hyperactivity being fueled by an extreme vocation. Thanks to all this appears this work we have in our hands. RMV has received several awards of aeronautical character (see Recognitions).