The company Seld-Kompressorenbau-GmbH, from Heidelberg, made an engine with two opposed cylinders named "Seld F-2" giving 36 CV. This was in the year 1938.
From Appendix 12: (Seld Kompressorau) Manufacturer of compressors and small aviation engines for motor sailboats, etc. Years before WWII.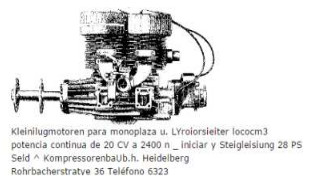 "Seld engine of 20 HP at 2800 rpm"
-We have also recovered a photo of a 36 CV with the same architecture.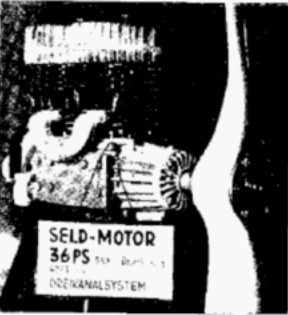 "36 CV Seld engine"
Motores de SELD
Model: 2-cylinder inline 20 cv
---
Arquitecture:
Cooling:
Total Displacement:
Bore / Stroke:
Power:
Weight:
Other details:
Model: 2-cylinder inline 36 cv
---
Arquitecture:
Cooling:
Total Displacement:
Bore / Stroke: x
Power:
Weight:
Other details:
Model: F-2, 2 cyl. boxer
---
Arquitecture:
Cooling:
Total Displacement:
Bore / Stroke: x
Power:
Weight:
Other details: