ROCKWELL INTERNATIONAL
(USA)
Rockwell International collaborated with the Lawrence National Laboratory in Livermore, CA. for the creation of a scramjet engine for a minimum speed of Mach 8, already reaching Mach 5.5 in 1992.
-Actually it was a small scale test that was launched through some kind of canyon instead of using a test tunnel or an actual supersonic aircraft.
-The cannon used compressed hydrogen to launch the small engine at very high speed.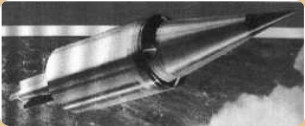 "Rockwell-Lawrence's Little Scramjet"
Motores de ROCKWELL INTERNATIONAL
Model: Scramjet
---
Arquitecture:
Chambers:
Fuels:
Feed System:
Ignition:
Thrust:
Weight:
Other details: