This twin-cylinder engine was designed and built by Hugh M. Rockwell in Plainville, Connecticutt. It was around the year 1917.
-The engine gave 60 HP, and weighed 135 lbs. It remained a prototype but the use of antifriction bearings was shown.
-To get to it, he started with a design of a 40 HP with two valves per cylinder that was re-powered to 60 HP.
-In 1920 it was modified by Rockwell changing the cylinder heads for single valve ones and giving it a simple injection system.
-This last engine is the one on display at the New England Air Museum in the USA.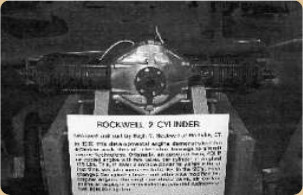 "Rockwell bicilíndrico"
Motores de ROCKWELL
Model: 2 cyl. twin-flat, 40 HP
---
Arquitecture:
Cooling:
Total Displacement:
Bore / Stroke:
Power:
Weight:
Other details:
Model: 2 cyl. twin-flat, 60 HP
---
Arquitecture:
Cooling:
Total Displacement:
Bore / Stroke: x
Power:
Weight:
Other details: